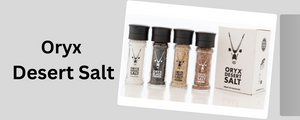 Oryx Desert Salt
---
DESERT SALT - FROM THE KALAHARI
Sustainale, Responsible, Re-Usable
Oryx Desert Salt is a naturally organic, crystal-white gourmet salt – sundried, mineral rich, unrefined, unpolluted and free from plastic, additives or chemicals.
Oryx Desert Salt is sourced from an ancient, ever-replenishing, sustainable underground salt lake in the pristine and remote Kalahari Desert of Southern Africa. Sun-dried in the hot African sun and the wind, energised by the moon and the stars, giving it a unique, gentle and exceptional taste.
OUR GRINDERS
Unlike many other grinders, ours are glass and have a ceramic head, this has 2 main advantages:
- Up to 20x more refillable than plastic head grinders
- No chance of plastic pieces contaminating your food.
#REFILLNOTLANDFILL

More info: www.Oryx Desert Salt Australia
See our Wholesale Brochures:
Grinder Range
Salt Product Information


---